Motion Space Delivers Full-Body Workouts to Any Location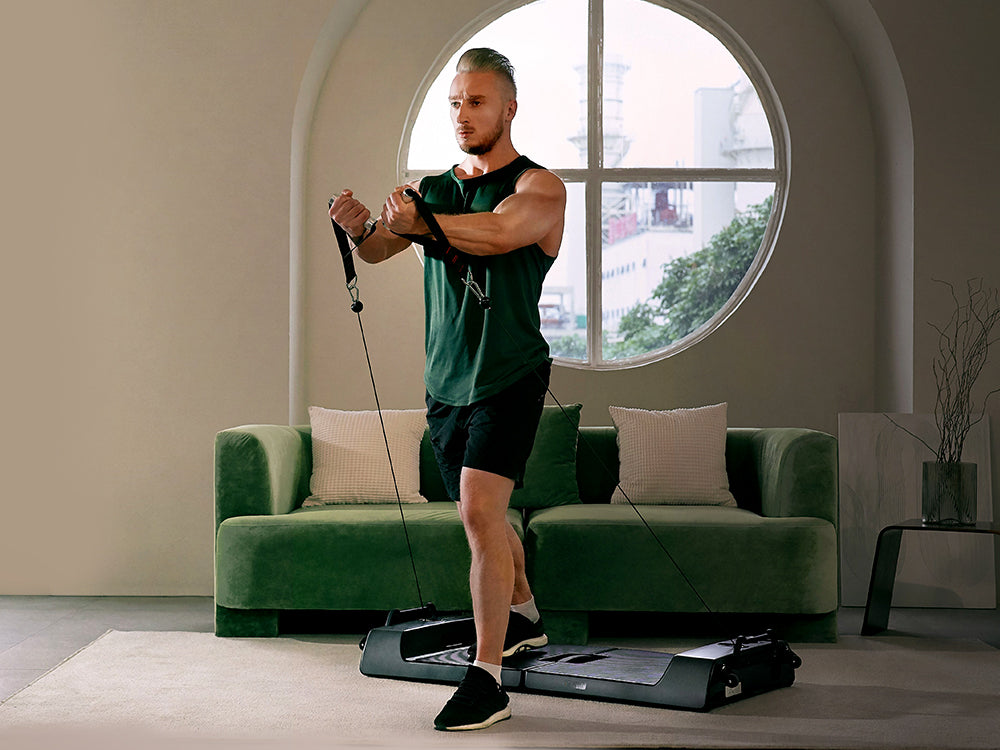 Motion Space, a brand focusing on intelligent training for fitness explorers, recently launched its Smart Home Gym Equipment For Strength Training. With Motion Space, working out at home or anywhere else for that matter, need not be a compromise. The installation-free foldable platform, which weighs 36 kilograms and takes up just 0.19 square meters when stored, comes complete with a system of pulleys that can be rearranged and reconfigured to provide more than 100 movements, facilitating whole-body fat burning, toning, strength training and aerobic exercise in one smart piece of equipment. Seamlessly switching between modes, Motion Space replicates the functions of six pieces of professional gym equipment.
During the pandemic, gym bunnies worldwide got used to the new normal of at-home workouts. But whether following online classes or creating their regime with a resistance band and a couple of dumbbells, there was always a trade-off. Try as they might, they could never replicate the results of a proper gym workout.
When the founder of Motion Space went to the doctor with chronic back pain, he was told he must exercise more to rehabilitate his muscles and build strength. A self-confessed workaholic putting in long hours as an engineer, he had no time to go to the gym and train. From this predicament, the concept of Motion Space was born. A workout station can be set up anywhere — at home, in the garden, or even in the office car park.
Motion Space converts don't even have to sacrifice the social aspects and personal training benefits of a gym membership. They can choose to design their own regime or use the Motion Space app's Smart Training function to enter their physical information and goals and receive an intelligently customized fitness plan. The free app also provides an extensive range of courses for all requirements and goals, as well as real-time tracking, feedback on progress and scientific insights into training.
The compact system is ready to use anywhere as soon as it's unboxed. At the same time, the innovative motor design provides multiple resistance modes, with a precise and adjustable unilateral load of between 1.5 and 60 kilograms. Standard, Centrifugal and Constant Speed settings satisfy individual fitness demands and the stabilized design of the platform ensures safety, even under robust use. The high-energy Constant Speed mode maintains continual tension for more intense strength training, while the advanced Centrifugal mode delivers different resistance depending on the direction of force, helping break exercise bottlenecks and achieve graduated muscle stimulation.
The Motion Space platform set comes with two built-in high-strength pulling ropes that have been tested over 100,000 times and individually adjustable left and right weights. Also within the standard pack is an ankle band, waistband, a set of handles and a fitness bar, all of which can be configured for different exercises. A wireless switch, which can be attached to the fitness bar, allows users to immediately stop the motor, ensuring safety and convenience if exhaustion strikes in the middle of a move. The smart system will also automatically reduce resistance to the minimum weight if it detects the free fall of the rope. Users can choose to add a foldable fitness bench into their bundle for even more workout variation.
"Motion Space is committed to creating technology-assisted sports products to make fitness more efficient and intelligent," says Motion Space CEO. "As we grow, we plan to collaborate with like-minded partners and continue to explore how advanced technology can help people achieve and beat their fitness goals. At our core, we are adventurers and explorers in the landscape that is intelligent fitness.
" For more information, please visit Motion Space's Amazon Store or Walmart Store.
Media
Contact Company Name: Motion Space
Contact Person: Customer Service Center
Email: service@m-spacer.com
Country: The United States
Website: https://m-spacer.com/